Do you want to get rid of your dreadful "time-wasting" habits and start doing things in an organized, efficient manner?
"Give Me a Few Minutes and I'll Show You How to Quickly and Effectively Get More Done in a Week Than What Most People Can Accomplish in a Month!"
Did you know that rich people value their time much more than they value their money?
That's right!
Success comes to those people who can manage their time according to their priorities. It is due to the fact that they can finish doing important tasks at a certain period of time without rushing things and without becoming reckless.
Thus, coming up with remarkable results is no surprise to them. So, are you willing to change your life?
Are you willing to establish a more organized living, to use your time wisely, and to start doing things now rather than the day before the deadline?
If you are, then great! Because I, too, am willing to share with you the secret ingredient of success – something that successful people themselves use, something that I call…
Super Tactics of Time Management Experts
I'm telling you, with the secrets enclosed in this comprehensive, step-by-step report, you can instantly change your life from unorganized to clean and tidy, from "there's still tomorrow" to "now is the right time."
This report will show you how to manage your time efficiently using powerful techniques in the art of prioritizing, delegation, goal-setting, planning, organizing, and overcoming the so called "time robbers."
With these super tactics, you'll be having the time of your life!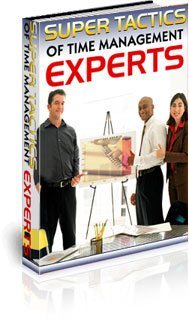 With Time Management, You Can Be Efficient…You Can Be Productive…You Can Be the Best of What You Can Be Right Now!
So are you ready?
Check out just SOME of the information you will find inside Super Tactics of Time Management Experts:
Necessary pre-requisites to help you manage your time effectively.
Main factors in determining your personal time.
How to become proficient in the art of prioritizing.
A very powerful tactic that can help you get more things done in one week than what most people can accomplish in a month.
The most notorious (and oftentimes irresistible) activities that steal away most of your time, and how you can effectively overcome them.
How to make your time productive when you really can't avoid the time thieves.
How to do just once what people are doing many times.
How to make emails work for you in your pursuit to save time.
How to finish your job in much lesser time and attain a balanced life.
Extraordinary methods to gain more direction in accomplishing whatever needs to be done.
Significant factors to boost your job performance and efficiency.
How to triple or quadruple your time to enjoy life to the fullest.
How to relieve yourself of tasks that you hate to do.
Super tactic to give you the right motivation.
Practical tips to overcome procrastination.
Three important aspects in planning your moves.
Motivational tools to give you the zest in starting out a task or duty with vibrant enthusiasm.
Important things to remember in setting goals.
Useful ways to create a sound plan.
How to utilize your effort or energy to become an achiever.
Suggested organizational method you can do to entail great results in managing your time.
Terrific techniques to organize your tasks and activities.
Unique and fun tactics for organized filing.
How to remember important dates or occasions without fail.
How to minimize errors and mistakes that waste so much time.
Great ways to help you create a better working space and lifestyle.
How to minimize your time looking for objects.
How to get control over your workplace, your life, and the time that surrounds you.
What to do to reduce stress and anxiety.
Why many people achieve very little despite spending most of their time on certain activities.
How activity logs function.
The standard technique used by top-level athletes, successful businessmen and achievers in realizing their dreams and reaching their goals.
Keys to being really productive and efficient.
How tasks should be prioritized.
The difference between an Action Plan and a What To Do List.
The importance of effective scheduling.
And a lot, lot more!